Written by Cameron Vellacott
They say you make your own luck, and for Nic Laube, nothing could ring truer. At 23, Nic has created videos which have gone viral, either through sharing a strong and passionate message or through hilarity.
His most significant body of work to date was an awareness film called 'A Better Place', which centred depression and anxiety. A major project, which was undertaken whilst studying a dual degree of Business and Film at QUT, gained serious traction and saw him moved from behind the camera, to in front of it.
Nic featured in the Courier Mail, as well as Nine News through this film. However, by no means was being famous in that regard the focus of his filmmaking. He only aspired to make good quality productions.
As a result of making such a moving piece, media organisations interviewed Nic and wanted an understanding of the people behind 'A Better Place'. However, through this Nic felt as if it drew away from the message he was so strongly presenting. It felt selfish and inauthentic, which were not the motivations behind the piece.
"We could've sold it (A Better Place). But we didn't. The only reason Beyond Blue were involved was to push people to them if they had any issues and needed help."
He mightn't know it, but his honesty and integrity in doing things the right way, and for the betterment of others is why he has moved into such an important position in his media career so rapidly. His core values have not wavered, even when the lure of economic prosperity is right in front of him.
Nic hustled through university, making films on both his own accord and through assessment. His passion leads to a chaotic life at the time, but one now that is highly rewarding. Building his media portfolio through elbow grease. This involved (and still does involve) many learning curves, however like any good learner, he has taken them in his stride.
While at QUT, he learnt that internships are an invaluable opportunity for learning.
"You can do a lot of bodies of work (in your degree), but internships are what they (employers) look at"
"If an employer has a pile of CV's, and one person has six internships; they'll get a look at before the person with one (internship)".
Nic applied for an internship at Queensland Cricket, which led to his current employment there. Since joining their ranks, he has become the Digital Marketing Coordinator at the Brisbane Heat. He has since been promoted to the Digital & Social Media Manager with the Heat. The Brisbane Heat are Australia's most followed sports team on social media, an impressive feat. Their success is undoubtedly linked to his tireless efforts creating engaging and entertaining work, rather than large quantities of garbage that will just congest newsfeeds.
Despite his description of his current career being 'lucky', his deep passion for storytelling is the driving force behind his fortune. Too modest to admit he is indeed very, very good at his job.
Quite deliberately I refrain from referring to Nic as 'talented'. To call him talented would imply he hasn't toiled for/ earnt his place, which would be wrong. Scouring through his Facebook page NLSF (Nicolas Laube Short Films), you can watch an abundance of showreels and projects, giving insight into the scale of what he's been able to achieve. Hard work goes a lot further than talent, but it's also the ability to treat others with respect, through which respect is gained. It seems Nic uses respect and hard work as arrows, while talent is firmly stowed away in his quiver.
Many of his contacts have been made through university or productions completed on his own accord. That's something we can all work towards, building relationships that will not have the due date of an assessment.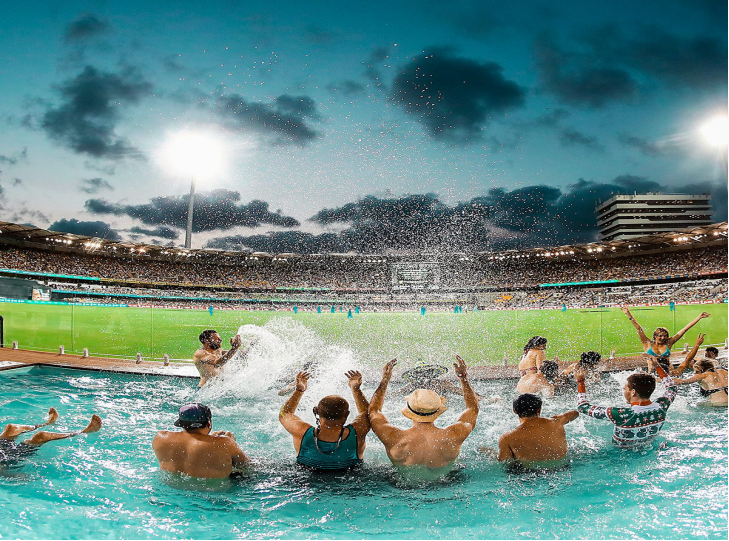 His two key takeaways from how to transition into a role are relationships and internships. And by no means are they mutually exclusive.
Nic's advice was to utilise internships to build "a giant web of contacts… in Brisbane, everyone seems to know everyone." Internships lead to a larger contact book. However, this idea is pinned on one other key principle; treating people how you would like to be treated.
Without explicitly saying it, just talking with Nic for a brief period, it is easy to see he is kind and generous. This has undoubtedly led him to his current role, and part of the reason he's been able to climb ranks so quickly.