Written by Bridget Nam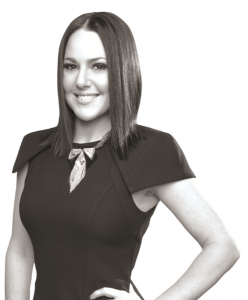 I was very fortunate to be given the opportunity to sit down with event-planning guru Katherine Galvin to ask a few questions about her experience in events, her opinions on the industry and also ask for her key words of advice for upcoming graduates. Through our discussion, Katherine shared her interesting story of how she came to her position today as the director of Social Society, a social media and digital marketing agency based in Brisbane. 
Fun fact about Katherine: Her career wasn't planned out for her. Her friends told her she would be good at managing social media, and she decided to dive in to it. Before Social Society, Katherine had several jobs including an interior designer, flight attendant and fashion stylist. Through these occupations, she gained experience in planning for various types of events. This came in handy in 2014 when she founded her agency.  With years of hard work, learning and dedication, Katherine has worked with many clients to create fun and memorable events. Read the full interview below. 
What does your average day look like? 
At large, it's mostly sending emails and following up on any meetings that I have on for the day. I also try and stay as organised as possible with client work and deadlines. 
How long have you been working in events?
Almost five years now. Before Social Society, I was a fashion stylist for several years. Then I expanded into events because I could see a market free for doing low-key social media events and expand into proper scheduled events from there. 
Did you have prior experience planning your own events besides from when you worked in fashion, or any training or mentors?
Yes! When I was a flight attendant, we had a lot of social events both in flight with VIP guests or staff soirées.
Do you see any emerging trends in the industry moving forward? 
I did. So for all the key dates of the year such as the Melbourne Cup, Queens Birthday, New Years Eve, there was definitely an opportunity to be able to monetize events for my clients and to offer a few more marketing tools to generate more revenue in all the venues. 
I'd love to know about an event you recently planned, and how did it go?
So an event we recently planned was at The Defiant Duck. We invited media and influencers to attend a ladies brunch with a tasting table and drink package. It increased brand awareness for that particular venue and reached out the demographic to people who usually wouldn't dine there because of the American diner kind of atmosphere. We brought in a more female aspect into the venue. 
Did you think the event was successful, and how did you measure the success? 
We measured the success mainly from social media metrics. I think it was definitely a success! We've noticed that a lot more people now know about that place as a live music and food venue. We've also had a lot of function and event enquiries come in for the particular grazing table that was at the event. 
What is your favourite part about event planning?
The actual event! The planning part, you're always thinking: Is this going to work? Until you get there and you realise that all your hard work is not getting unnoticed. 
What challenges have you encountered while planning for past events? How did you resolve these challenges?
So another event that we did was for the Teneriffe festival while there was torrential rain. So the day before, we knew there was going to be rain so we organised a huge marquee to protect a whole laneway. Otherwise, there would be no patrons there. So that is the biggest challenge we've faced and how we fixed it. 
What are some key skills or experience you think all good event planners need? 
I think just life experience is good. Not thinking too complicated about things and thinking about where a regular person wants to go in their daily life, and where you want to go as an individual, and where your friends want to go. There's so many grand ideas that you can have but the majority of us are just normal people, so thinking like a normal person but trying to think of cool and exciting ways to get people to interact. 
Do you offer internships? 
Yes we do! Internships and volunteer experiences make candidates more competitive in the job market. In addition to gaining exposure and experience in the field, they also provide an opportunity to see if the particular career field is the right one based on getting personal experience in the field.
That's great! So what do you look for in interns?
I always look for someone who is well organised, punctual, excited to learn and thinks outside the box. I love when interns use opportunities to speak up and share their prior knowledge as well. I believe we can all learn something new from interns. 
What are your words of wisdom for those soon-to-be graduate students who want to get into event planning?
Party hard!